Mechanical and Electrical Parts We Supply to Mining Companies Include: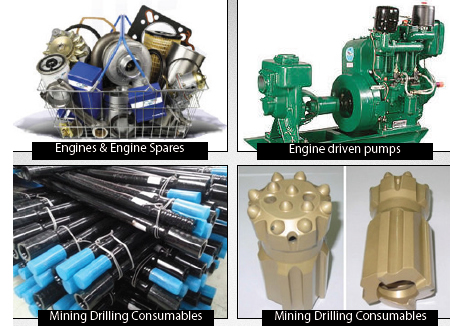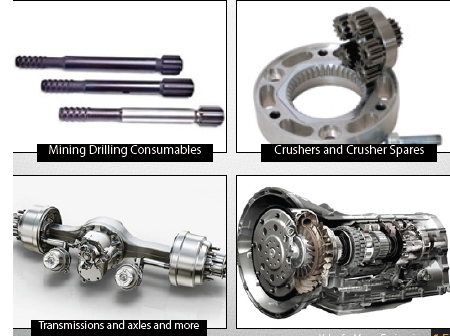 (a) Diesel Electronics and Mechanical Engines Cat Engines (Pantera Engines Inclusive);
Deutz Engines; Detroit Engines; Cummins Engines; Mercedes Benz Engines; Perkins Engines; MTU/DDC Power Generation; Detroit Engines; MTU and Allison Products etc
(b) Mining/Ground Engaging Tools (GETS)
We supply GETS and other mechanical spares and parts which include ESCO buckets, bucket teeth, lip system, shroud system and track pads and accessories for excavators, loaders, draglines and shovels; HARDOX wear plates for other GETS and mining machinery.
(c) Supply of Computer Aided Tools for Electronic Engines and Transmissions
CAT SIS, ELECTRONIC TECHNICIAN-Caterpillar engines and machines
DDR-for Detroit engines
Pro link IQ-for Detroit engines, Cat Engines, International Engines, Allison and Clark Transmissions
USB Data link for Detroit engines, Cat engine, International engines,
Inline 6 - for Cummins Engines
Mini Diag II - for Benz Engines, Dimlar Chrysler etc
Dear born protocol Adapter 4 - for all electronic engines, Cummins engines, Hino Explorer, Volvo and Allison Transmissions etc
Tool for Deutz, Scania, Man, Iveco, Caterpillar, Daff, ERF, Volvo, Mercedes Benz, Daf, etc
(d) Computer Aided Diagnostic Tools
(e) Supply – Heavy Equipment Spares/Engine
Spares
ECM Injectors; Water Pumps; Fuel Pumps; Harnesses; Cylinders Heads; Pistons and Piston Rings; Gaskets; Turbo Chargers; Filters; Alternators; Motors; Axles; Torque Convertors; Loaders and Loaders Spares. We also supply various heavy equipment parts for P&H, Sandvik, Atlas Copco, caterpillar, Volvo, Hitachi etc
(f) Supply of Mining Bearings and Conveyor
Belting Equipment
We supply and install conveyor belting equipment to customer specification. Such parts include: impact beds, impact bars, belt cleaners. We also supply bearings, Plummer blocks, and adapters of different types.
(g) Supply/Repairing Gearboxes of different brands and Supply of Spares
(h) Repairing Pumps and Supply of Pump Spares
We supply and repair Warman Pumps and also supply of the spares/accessories for the same equipment.
Products We Supply
Mining Equipment
Mining Tools/Consumables like drill bits, shank adapters and drill rods
Ground Engaging Tools, (G.E.Ts)
Engines and Engine spares/Consumables
Mechanical Spares like pumps, crushers and crusher spares, conveyor belt, Bearings, rollers and accessories gearboxes, engines & spares, Axles and spares, Transmissions and Spares etc
Computer Aided Tools for Electronic Engines and Transmissions
General Hardware
     


ISO 9001:2008 Certified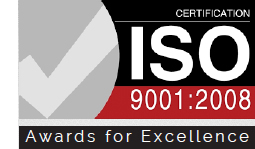 Alpha Tech engineering excellence has been ISO 9001:2008 Certified - recognition of its reliability and dedication in delivering world class technical products and services to its customers.

We are also Affiliated Member of Kitwe Chamber of Commerce, and in 2013, we were awarded with the First Prize in Commercial Supply Company of the Year. The trophy below speaks of our recognition.